we work with you to define your survey plan and develop your questions
Every business is different, so Career Insight has the built-in flexibility to be shaped and scaled around your business and your needs.
Career Insight can be customised around specific commercial objectives and surveys and reporting approaches can be built for unusual company structures. We'll make sure your bespoke Career Insight package ticks every box you need it to.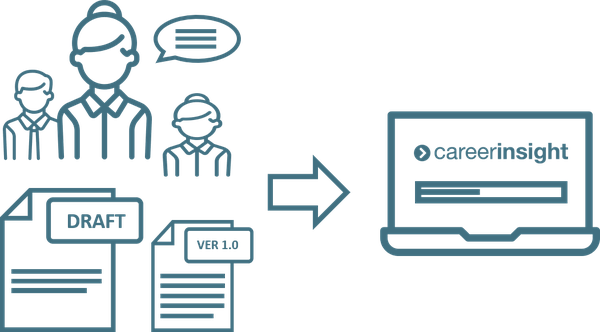 you upload your data from an employee database
We work to the specification of your data's layout, so you can simply use your existing data formats. You can manually upload .csv or .xlsx files to Career Insight by dragging and dropping the file onto the Career Insight upload webpage.
If you prefer, we can tailor our systems to connect directly and securely with your HR management system, so the process is completely automatic based on criteria you select. Career Insight emails survey invites & reminders to employees
When we define the survey plan, we establish the rules of who will get invitations to take part in surveying and when. For example, you may want to survey a new starter after 12 weeks, or a leaver 2 days before their scheduled leave date. Career Insight is completely configurable to carry out scheduled tasks such as invites and reminders.
Personalised emails go out to your employees, inviting participation and encouraging them to be open and honest in their responses. You can log-in to track response rates at any time.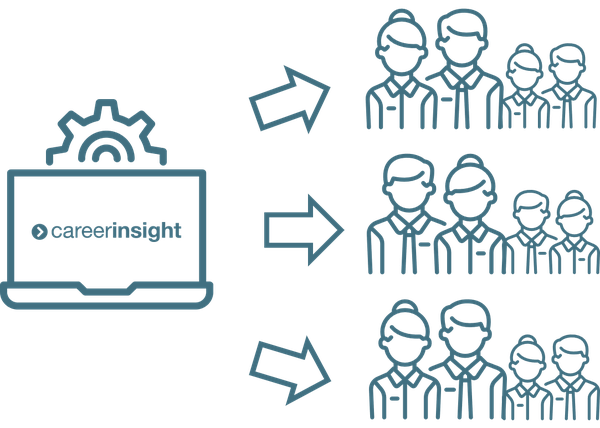 employees complete the survey(s) online (or via telephone)
Most employees will take part in Career Insight surveys by self-completing their survey online, they can use a smart phone a tablet or a laptop/desktop PC. All modern browsers are supported, and participants can return to a part finished survey at another time, should they need to.
Some groups of employees may choose to speak with a person about, for instance, a problem they have had, or something out of the ordinary. We are able to telephone and interview these people, either on request from the employee, or because predetermined rules have been met, such as having a particular leaving code in their uploaded record. This human touch is really important and can deliver many benefits both for your organisation and the employee. It is sometimes possible to prevent the employee leaving altogether, saving valuable time and recruitment budget. you can login to view reports which show you the latest survey responses
As soon as an employee has completed an on-line survey, their responses are reflected in the data and all your saved and future reports are up to date. Career Insight has a simple but powerful reporting interface which allows all of your unlimited number of admin users to save their own personal reports (configured to show graphs and charts of their choice) or save a global report for all users to see.
Reports can contain any combination of graph or table elements and comparisons can be made between areas of your business or between time periods. Reports are available in screen readable or PDF formats and you can also download all results in a spreadsheet format, should you wish to do your own further analysis.